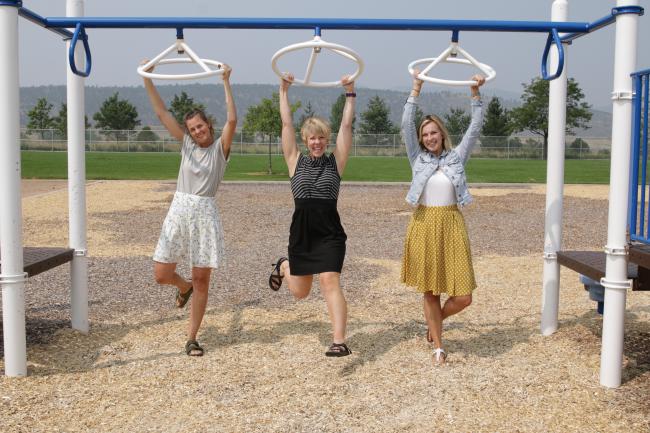 Biographical Sketch:
I am a Colorado native who moved to Chicago, Illinois after graduating from the University of Northern Colorado. While there, I go married and had my two wonderful daughters, Amelia and Hazel. Our family moved back to Colorado in 2009 and have continued our love for music, the outdoors, and the community.
Educational Background:
After graduating from UNC in Greeley with an English degree and Elementary Education emphasis, I moved to Chicago and was an educational naturalist at a nature center. After a year and a half at Emily Oaks Nature Center, I taught fifth grade for nine years at Highland School in the amazingly diverse Skokie, Illinois. I earned my Master's Degree in Special Education before heading back to Colorado to join the Olander community in 2009. I taught fourth grade my first year here, fifth grade for four, and am now in my second exciting year of Kindergarten.
Why I enjoy teaching:
I love watching students realize their own potential and ask new questions, realizing that having the answers is not always necessary. Searching for the answers gives us true learning.
Favorite Books:
I have trouble with "favorites," but I do love "The Curious Garden," by Peter Brown and any Mo Willems and Oliver Jeffers books.
Interest & Hobbies:
Hanging out with my family, hiking, running (slowly), biking, camping, watching theater, and listening to great music.
What I love about Olander:
I love the inclusive philosophy of Olander. Everyone is welcome, and students actively involve others.
Favorite Quote:
"Keep your face in the sunshine and you cannot see a shadow." -Helen Keller
About My Classroom:
Kindergarten is a foundational place for the school experience. Children learn and grow exponentially in Kindergarten. They learn how to read, how to use numbers and shapes, how to write words, how to tell a story, how to be a friend, how to accept feedback, how to apologize, how to empathize, how to work as a team, how to problem solve, and how to accept differences. Our classroom is filled with love, singing, jokes, and lots of books! I hope children and their families see our classroom as a community and a family where we try our best, learn from mistakes, and become our greatest selves every day!